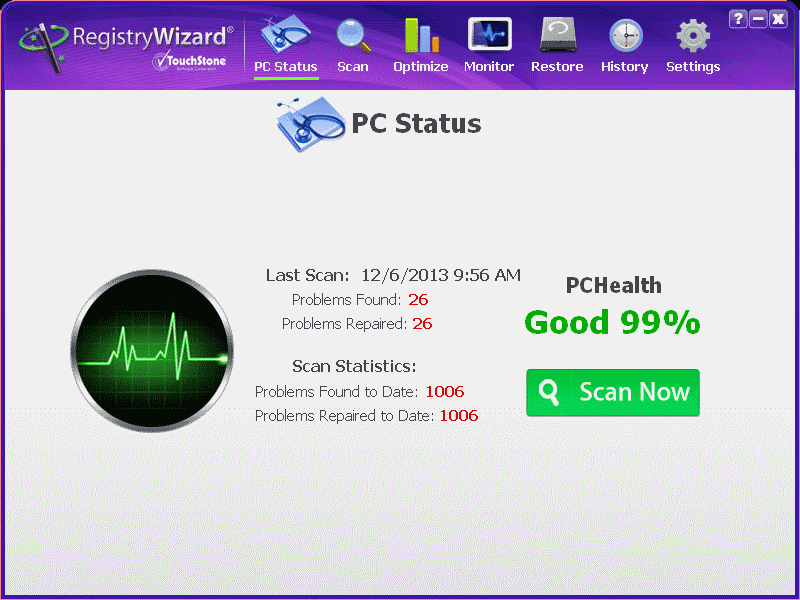 RegistryWizard 3.2.14.523
Computer too slow? Corrupted with errors? RegistryWizard will find, clean and repair registry problems and optimize your Windows computer for peak performance. Sign up for a free scan with America's # 1 registry cleaner today!
Pros:
Extensive registry repair and computer optimization functionality, ease of use
Cons:
No phone support, but on-line support is very good
The verdict:
RegistryWizard is a comprehensive, yet easy to use computer maintenance utility that has all the necessary tools to clean up, repair, optimize, and tweak Windows computers. It has everything a good registry maintenance suite should have - a powerful registry repair and defragmentation engine, additional functionality, such as disk cleanup and Windows tweak tools, and solid backup options. RegistryWizard is an excellent program worthy of 5-star rating.
RegistryWizard is a tool designed to speed up Windows PCs by cleaning and optimizing the registry, as well as removing junk files and deleting Internet history tracks.
There are a lot of registry repair programs available today and a lot of them are very much alike. They claim to fix registry errors and speed up computers, but in reality they don't show any positive impact on system performance. RegistryWizard is different. Not only does it perform extensive registry repair, but it also has handy tools to optimize and defragment the registry, tweak Windows settings, remove junk files, and erase history tracks. Unlike other similar programs, it only focuses on genuine registry repair. All this helps RegistryWizard deliver amazing results.
Features
RegistryWizard has a lot more features than a typical registry cleaner. In addition to its registry cleanup capabilities, it has a registry defragmenter, Windows tweaking tool, Windows and browser history cleanup tool, and a special feature to monitor changes made to the registry. In addition to that, there is a strong backup and restore function.
Registry Cleanup
When a user launches RegistryWizard, PC health overview is displayed. The information is presented in a nice and clear way, which is great for less experienced users. There is a Scan Now button on the right-hand side of the screen.
Even though RegistryWizard scans a lot of advanced registry items that are often ignored by other registry cleaners, the scan is surprisingly quick. The program scans all registry categories by default and there is an option to customize the scan via Settings.
When the scan is complete, the user is presented with a list of detected problems and is prompted to repair them. There is an option to automatically repair all errors, as well as manually remove selected items. The software also has an Ignore list to which the user can add custom registry items.
System Performance Optimization
Under the Optimize tab, RegistryWizard offers several system performance tweaks. The user can customize menu show delay time and speed up Windows shutdown by optimizing application and service termination time. There is also an option to improve system startup by arranging startup files in contiguous blocks and autoclose unresponsive applications. But most importantly, there is an option to defragment the registry, which is a proven performance-boosting technique. In addition to all that, Vista users can enjoy useful Windows Vista tweaks that greatly improve the performance of that particular operating system.
Monitor Changes
Monitor Changes is an extremely useful feature, because it can notify the user when someone or something is trying to modify the registry. This means that this feature can immediately make you aware of a dangerous malware infection or a hacker attack.
Restore Changes
The Restore Changes option is invaluable, because it creates system snapshots and allows the user to roll back the changes made by the program. RegistryWizard's backup options are more powerful than the ones offered by similar software, as it's possible to restore individual registry items as well as undo all changes.
Clean History
RegistryWizard is more advanced than its competitors, because its functions don't end with registry cleanup and optimization. It is also capable of removing junk files and history traces for popular browsers like Microsoft Internet Explorer and Mozilla Firefox.
Ease of Use
RegistryWizard has a very clean and intuitive interface. All the user needs to do is select a function from the menu on the left-hand side and follow the instructions. This means that all cleanup and maintenance tasks can be performed in literally two clicks.
The Settings menu is equally easy to navigate and allows the user to quickly configure the way RegistryWizard performs its tasks.
Performance and Effectiveness
RegistryWizard's installation was very quick and it only tool a second to launch the program. Likewise, the scan was blazing fast. But the number of detected registry errors impressed us even more than scan speed – RegistryWizard found 1332 registry errors on our Windows XP test system. That's more than any other software managed to detect. Fixing the errors went quick and smooth. After that we performed registry defragmentation. When we rebooted the test system, the increase in performance was clearly noticeable – the system took less time to boot and all common tasks, such as launching applications, opening Word documents, and browsing the Web, were a lot quicker.
Help and Support
eSupport have an excellent Help section on RegistryWizard's website. There is a thorough user manual that explains how to use the software and perform repair and optimization tasks, there is a very useful FAQs section written in plain English, and there is also an option to contact technical support by email. The support team replied to our email very quickly and answered all our questions. All in all, RegistryWizard has extensive support options, even though phone support is not available.
Summary
RegistryWizard is one of the best registry repair and optimization programs we've tested so far. Its effectiveness, intuitive interface and extensive functionality make it way out of reach of its competitors. eSupport have done an excellent job and RegistryWizard comes highly recommended.